Traditionally, there has been a divide between risk managers (buyers) and insurers (sellers). Over time, risk mangers built an expertise in identifying risks and finding the appropriate insurance product to use to transfer that risk. With the advent InsurTech, RiskTech, and wellness-focused startups, the lines between risk managers' and insurers' roles are blurring.
Insurers through InsurTech partnerships can now offer services to mitigate risks before they happen and improve recovery from incidents after they happen. These three-way partnerships between startup, insurer, and risk manager have tremendous potential to improve the health and safety of our workforce and mitigate disasters before they happen.
Surrounding this environment is an ever-present need to do business in an environmentally conscious and socially responsible way. As a trend towards ESG moves through the Fortune 500, insurers need to establish their ESG positions and use them to their strategic advantage.
Hear from subject matter experts on wellness, safety, and ESG on the new approaches being used by startups to prevent claims before they happen.
We will donate a portion of the ticket revenue from this event to the Spencer Educational Foundation.
COVID-19 Information: Per NYC rules, proof of vaccination will be required to attend in-person.
Agenda Overview
5:30 PM EST – Registration and Networking
6:00 PM EST – Welcome and Introductions
6:05 PM EST – Panel 1: Using Data to Improve Wellness
6:35 PM EST – TED Talk: Improving Data Quality in a World of Evolving Privacy Regs
6:43 PM EST – TED Talk: Protecting Your Policyholder with NatCat Monitoring
6:50 PM EST – Wellness Break hosted by Optimity
7:05 PM EST – Panel 2: Attracting Gen Z through ESG
7:25 PM EST – Panel 3: Using Underwriting Data to Prevent Claims
7:55 PM EST – Networking & Closing Remarks
8:30 PM EST – End
Featured Speakers
We are bringing together an expert lineup of insurance carrier leaders, InsurTech founders, and solution provider leaders. This section will be continuously updated with new speakers.
Nichole Myers – Head of Underwriting Propositions, Swiss Re
Michael Pastor – CEO, CGS Health
Jane Wang – CEO, Optimity
Melanie Ramey – Associate, Eversheds Sutherland
Lisa Wardlaw – Head of Insurance Solutions, ICEYE
Jeff Cohen – SVP, Zywave
Anaha Babu – Student, St. John's University
Reiner Atstathi – Student, St. John's University
Bill Keogh – COO, Eos Venture Partners
Courtney Osborne – SVP, Casualty, Marsh
Isaac Espinoza – Head of Reinsurance, Root
Robert Anderson – Principal Architect, Endava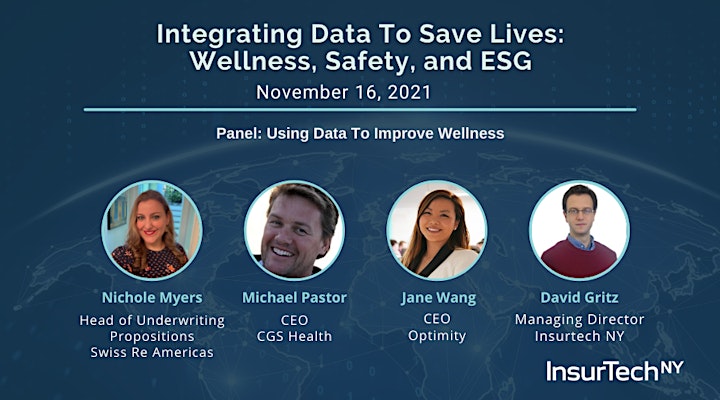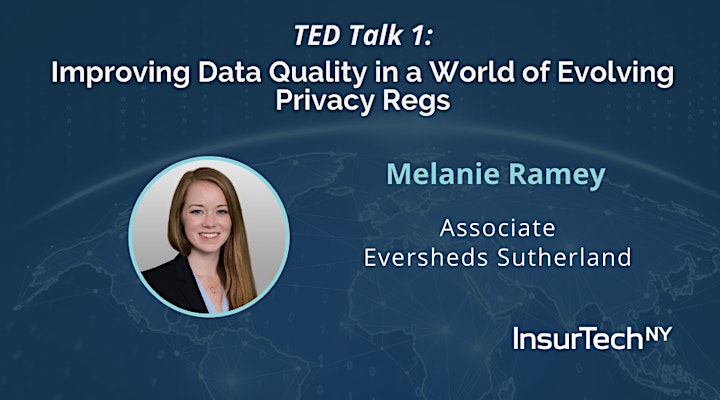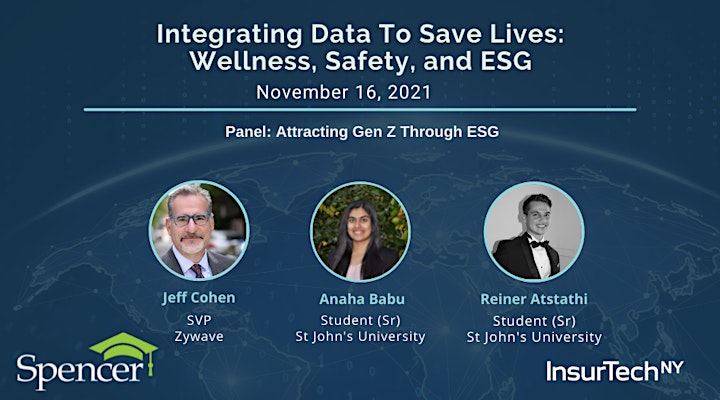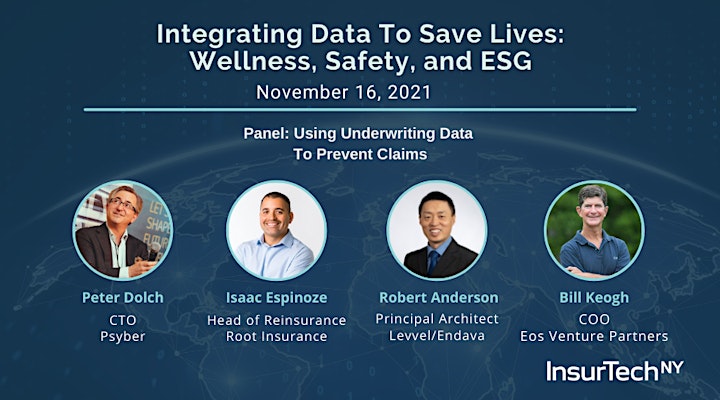 Our Sponsors
Thank you to our sponsors for making this event possible:
Eversheds Sutherland, ICEYE, Levvel, Optimity, Spencer Educational Foundation
This section will be updated as we confirm more sponsors.