Note: Donations will go to National Africa American Insurance Association (NAAIA) to support student scholarships and programs for young black professionals in insurance. More info here: https://www.naaia.org/scholarship
InsurTech NY and NAAIA Event Details
The history of insurance is intertwined with some of the biggest injustices and challenges in American history. As times have changed, so has insurance. However, many obstacles still exist that limit or prevent black executives and black InsurTech founders.
NAAIA and InsurTechNY seek to raise awareness of the internal and external biases that exist in the insurance industry to promote diversity and inclusion. Join us for a startup showcase and panel discussion by black founders. Tune in for an in-depth discussion of the path to remove race from insurance underwriting.
Event Supporters

Agenda
Ove
rview
10:00 AM ET – Welcome and Introductions
10:10 AM ET – Black founder InsurTech showcase
10:30 AM ET – Panel 1: Overcoming obstacles as a black InsurTech founder
11:00 AM ET – Panel 2: Removing race from underwriting
Featured Speakers
We are bringing together an expert line up of insurance carrier leaders, InsurTech founders, and solution provider leaders. This page will be continuously updated with new speakers.
Economic Development Corporation – Lindsay Greene – Chief Strategy Officer
Oneva – Anita Gardyne – CEO
Weather Check – Demetrius Gray – CEO
Pineapple – Ndabenhle Ngulube – Co-founder
Infiniqo – Jae McKinney – Founder
NAIAA NY Chapter – Denise Campbell – President
New York DFS – My Chi To – Executive Deputy Superintendent of Insurance
Capstone Consultants – Zayda Marrie – Chief Strategy & Marketing Officer
Locke Lord – Brian Casey – Partner: Regulatory & Transactions Insurance Group
Electromagnetic Advisors – Bill Goddard – Angel Investor
Sigo – Randel Bennett – Head of Insurance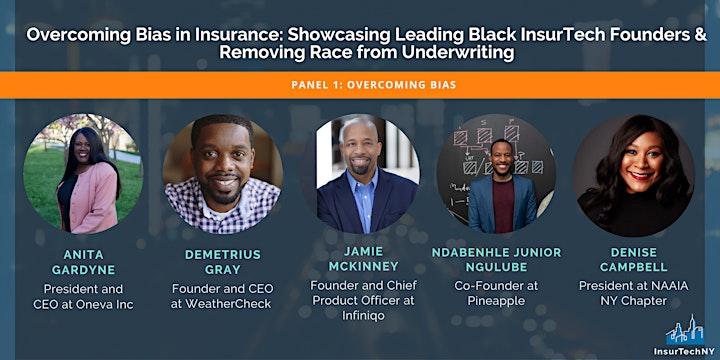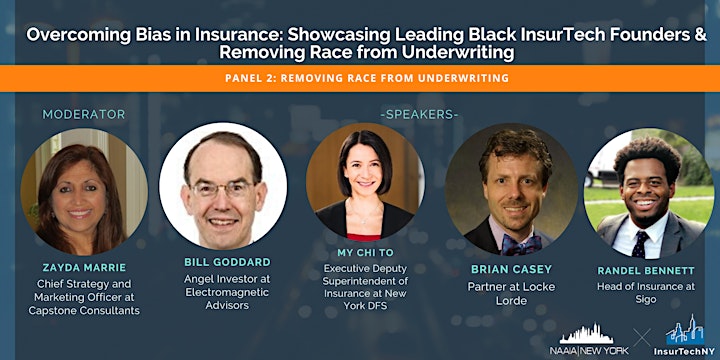 Who Should Attend
Diversity Leaders: Chief Diversity Officers, VPs of Diversity & Inclusion
Underwriters: CUO, VPs, Directors, and Mangers of Underwriting
Corporate IT: CIOs, VPs, Directors, and Managers of IT and Technology
Analytics: VPs, Directors, and Managers in Analytics
Data Science and Architects: VPs, Directors, and Managers of Data Science and Enterprise Architecture
Policy Admin: VPs, Directors, and Mangers of Policy Administration
InsurTech Founders and Executives
Innovation Leaders: VPs, Directors, and Managers of Innovation
Corporate Ventures: Managing Directors, Principals, and Associates in Corporate Ventures Capital
VCs and Angel Investors
Northeast InsurTech Week
This event is part of a week-long event hosted by multiple InsurTech communities in the Northeast region of the United States. Please see the full list of events here: https://www.eventbrite.com/o/northeast-insurtech-alliance-30533400064