InsurTech NY: Core Systems Evolution – InsurTech and Legacy Integration
About this Event
Note: Presentations and networking will be 100% virtual. Go to Enhanced Virtual Experience section to learn more
InsurTech NY Event Details
The global pandemic has brought to light one of the worst-kept secrets of IT Departments. The majority of their budgets are spent on maintaining legacy systems and of organizations that were started before the space era. Many of those legacy systems were built before the graduating class of Gen-Zs computer science majors were born.
The challenge in starting transformation projects is that they are high-risk because most projects are mission-critical and have no redundancy. Insurers cannot do without their policy administration, billing, or claims systems for even a few hours. And, transformation is expensive. According to a study by Deloitte and LIMRA [1], the estimated payback period of 60% of transformation projects is more than 4 years or unknown.
Fortunately, all hope is not lost. Almost half of the companies surveyed by LIMRA [1] have completed at least one transformation so far. Traditional core systems providers have developed paths to derisk transformation and InsurTechs now have solutions to tackle challenges through APIs, Microservices, and partial replacements. Learn the latest changes from our panels of experts who have been through dozens of digital transformations.
Agenda Overview
1:00 PM EST – Welcome & Introductions
1:05 PM EST – TED Talk 1
1:20 PM EST – Panel 1: Derisking upgrades: How to effectively manage career-risk upgrades
1:50 PM EST – TED Talk 2
2:05 PM EST – Panel 2: Legacy + InsurTech: The checklist for integrating with InsurTechs
2:45 PM EST – Virtual Networking
5:00 PM EST – Wrap-Up and Raffles
5:15 PM EST – End
Featured Speakers
We are bringing together an expert line up of insurance carrier leaders, InsurTech founders, and solution provider leaders. This page will be continuously updated with new speakers.
ClarionDoor – Michael Degusta – CEO
BobTrak – David Kelly – CEO
Tokio Marine – Bob Pick – SVP & Chief Information Officer
Nationwide – Chetan Kandhari – Chief Digital Officer and Senior Vice President
Novarica – Jeff Goldberg – EVP Research and Consulting
EIS Group – Anthony Grosso – SVP Global Marketing and Communications
Iosis Consulting – David Bradford – Principal
State Auto – Greg Tacchetti – Chief Information and Strategy Officer
Guidewire Software – Chris Vavra – Sr Director Product Management, Cloud Platform
Microsoft – Jonathan Silverman – Insurance Industry Executive
EY – Dawn Nash – Partner, Executive Director, Insurance – Digital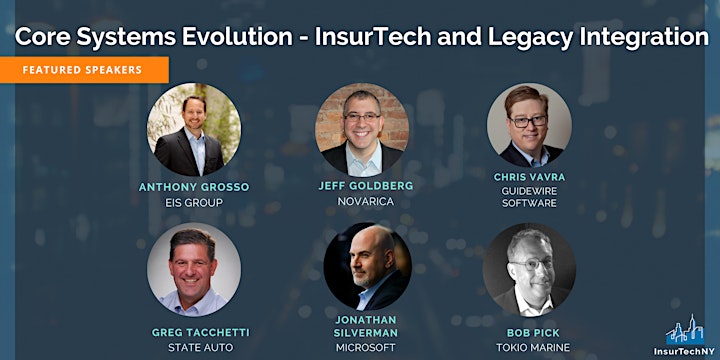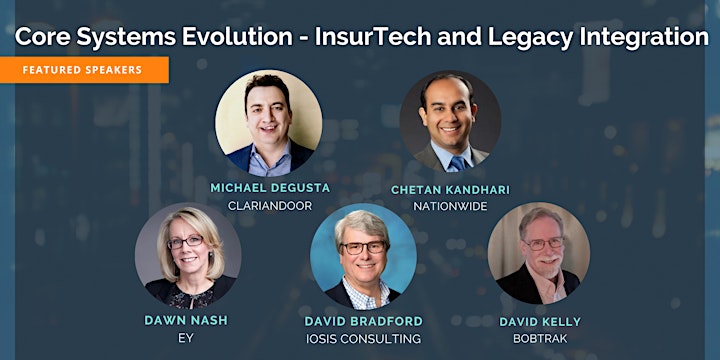 Enhanced Virtual Experience
Virtual networking app We have partnered with Grip. You can use the app during the networking time to set up 15 minute 1-on-1 virtual meetings. You will be amazed at how effective it is.
State of the art conferencing software You will have audio, video, and presentation screens. You will also be able to interact with the speakers.
Full access to the content recording All of the sessions will be recorded and shared with the attendees for future review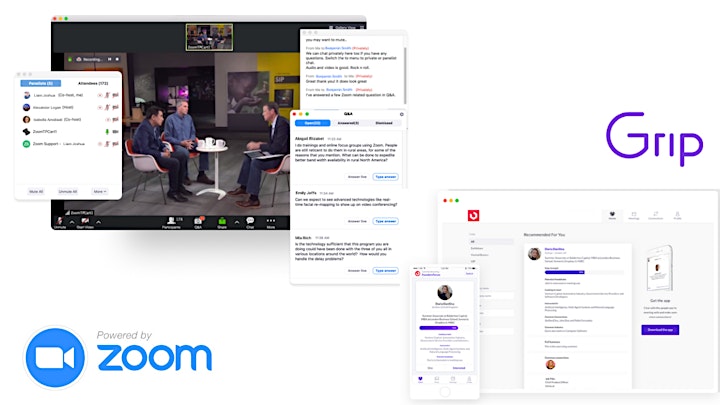 Our Sponsors
Thank you to our sponsors for making this conference possible: Guidewire, EIS, EY, Microsoft, & ClarionDoor.
If you would like to have to learn more about sponsoring our events, please email contact@insurtechny.com.
Who Should Attend
Corporate IT: CIOs, VPs, Directors, and Managers of IT and Technology
Analytics: VPs, Directors, and Managers in Analytics
Data Science and Architects: VPs, Directors, and Managers of Data Science and Enterprise Architecture
Policy Admin: VPs, Directors, and Mangers of Policy Administration
InsurTech Founders and Executives
Innovation Leaders: VPs, Directors, and Managers of Innovation
Corporate Ventures: Managing Directors, Principals, and Associates in Corporate Ventures Capital
VCs and Angel Investors