Please see the agenda below and contact us with any questions.
Agenda Overview
9:00 AM Welcome & Intros
9:15 AM Panel – What Makes A Good Partner
9:45 AM Startup Pitches
12:30 PM Lunch
1:00 PM Roundtable Discussions
2:30 PM Break
2:45 PM Roundtable Discussion (cont)
4:30 PM Closing & Wrap Up
4:45 PM End of Selection Day (Startups Leave)
Featured Speakers
We are bringing together an expert line up of insurance carrier leaders, InsurTech founders, and solution provider leaders. This section will be continuously updated with new speakers.
InsurTechNY's mission is to bring together carriers, brokers, startups, and investors to help accelerate the digital transformation of the Insurance industry in the greater New York region. We do this by facilitating new relationships and sharing insights from influencers within the industry through hosting 6 educational and networking events a year (est. every 2 months). Please visit our website, www.InsurTechNY.com for more details.
A Previous InsurTech NY Event
Below is an example of one of our bi-monthly events (Dec 5). Influencers from Carriers/Brokers such as NY Life, Prudential, and Everest Re and InsurTech startups such as Hyper Science and Livegenic and investors from IA Capital and Overlook Rock attended the event from the greater NY region and beyond.
Video: Full event on Youtube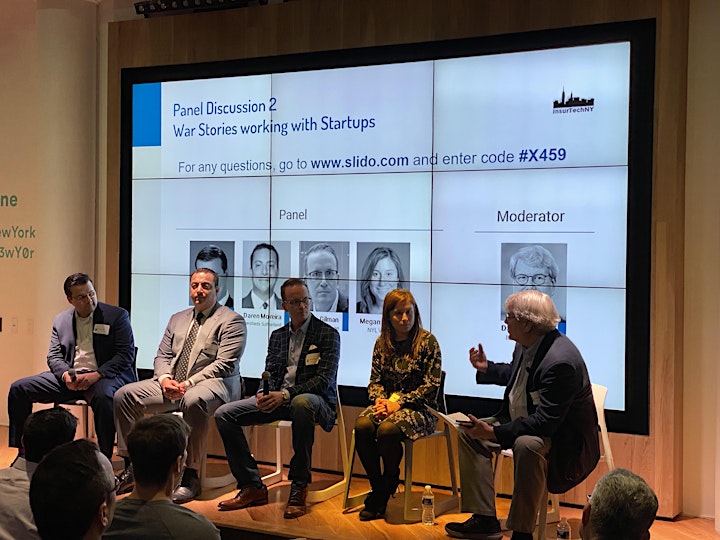 Follow us on social media.
Linkedin: https://www.linkedin.com/company/insurtechny
Twitter: https://twitter.com/InsurTechNY
Meetup: https://www.meetup.com/insurtechNewYork/
Youtube: https://www.youtube.com/channel/UC5VDD9uyFajGZsa-5u_2_ZQ
Privacy note: InsurTech NY collects your email and phone number at registration. We use your information to share news and updates about this event and future events. We also reserve the option to share your information with our event sponsors. If you wish to opt-out, please email contact@insurtechny.com.